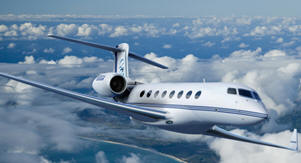 October 19, 2010 - Just prior to the National Business Aviation Association (NBAA) Meeting and Convention in Atlanta, Gulfstream test pilots and engineers made a compelling demonstration of the Gulfstream G650's exceptional high-speed cruise capabilities, flying a 5,000-nautical-mile (9,260 km) closed circuit at Mach 0.90 over the Atlantic Ocean in 9 hours and 45 minutes.
"Never has a business jet flown so far, so fast, so flawlessly," said Pres Henne, senior vice president, Programs, Engineering and Test, Gulfstream. "This airplane defines a new level of productivity. Part of that is the ability to move executives in comfort swiftly around the world."
Aircraft Serial Number (S/N) 6004, the fourth test aircraft in the flight-test program, and the first with a full interior, departed Savannah at 9:57 a.m. local time on Oct. 9 for the fastest ultra-long-range flight ever flown by a business jet. The aircraft had flown a total of only 12 hours previously, including seven hours with a fully installed interior. The jet is on display for order holders at the NBAA industry conference in Atlanta this week.
Weight at take-off was 99,538 pounds (45,150 kg). The aircraft has a maximum take-off weight of 99,600 pounds (45,178 kg), allowing it to operate from weight-restricted airports such as Teterboro and Aspen.
A crew of six manned the aircraft: Senior Experimental Test Pilot Tom Horne; Production Test Pilots Al Moros and Rick Gowthrop; Flight Test Engineer Michael Brinley; and Interior Specialists Allen Blaylock and Mike Phipps. Blaylock and Phipps used the time aloft to examine the new cabin installation under cold-soak conditions, evaluating the many new features of the G650 cabin, including communications and entertainment equipment and the airplane's advanced Gulfstream Cabin Management System (GCMS).
Although six were aboard, the aircraft was ballasted to simulate a crew of four and eight passengers. Climb out was at 250 knots to 10,000 feet (3,048 m), then 300 knots, transitioning to Mach 0.85 until reaching cruise altitude. Twenty-three minutes after brake release, the aircraft leveled off at its initial cruise altitude of 39,000 feet (11,887 m) and accelerated to Mach 0.90, later making step climbs to a final cruise altitude of 45,000 feet (13,716 m).