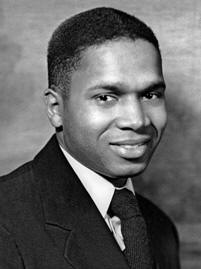 While African Americans were making strides in military and general aviation, the area of commercial aviation remained a mostly closed society. With few exceptions, Blacks were unknown in commercial aviation during the post-war years. It wasn't until the advent of the civil rights movement in the 1960s that some of the barriers came down. The first African American to pilot a commercial aircraft was August Martin. August Harvey Martin was born in Los Angeles, California and was educated in the home by his professional school teacher mother up to the age of 13. Later, the Martin family moved to New York City where August was to graduate from DeWitt Clinton High 5chool in 1938.
August Martin later returned to California where he attended San Mateo Junior College and the University of California. While in junior college he "gassed" and washed airplanes at the Oakland Flying Service to earn money for flying lessons. Ten years after graduating from secondary school, Martin soloed on January 8, 1940 in a Fleet Model 2. He continued his flight training in the civilian pilot training program at the University of California, and by the time he graduated, he had finished his flight instructor rating. Moving back to the North, :Martin worked as a civilian flight inspector in the Navy V-12 program at Cornell University in New York in 1942.
Soon thereafter (1943) he joined the Army Air Corps and went through flight training at Tuskegee. As a cadet he flew the Stearman, the Vultee "Vibrator" and the AT-6, but upon receiving his wings, Martin went on to pilot the B-25 "Mitchell" twin-engine bomber. Unfortunately, World War II ended before Martin and his fellow bombardment group could be sent overseas. He left the Air Corps a year later.
Following the war finding a flying job was quite difficult if you were Black, and because thousands of former military pilots were looking for work. Martin took an aircraft maintenance job with Willis Air Service in Teterboro, New Jersey to stay close to aviation. Between 1946 and 1955, he flew only part time for such air- lines as Buffalo Skylines, El Al Airlines and World Airways. In between flying jobs, Martin once took a job as a stevedore on the docks of New York City to support his family. In 1955, August Martin gained a foothold in the world of U.S. aviation when he was hired by Seaboard World Airlines as the first Black captain of a LI.S. scheduled air carrier. During a thirteen-year period with Seaboard, Martin got a chance to pilot the DC-3, DC-4, Lockheed Constellation and Canadair CL-44.
Martin felt strongly about helping others in the emerging nations of Africa and used his vacation time often to fly necessary supplies to these countries. It was one such vacation during 1968 where fate would catch up to him. On July 1 of that year, August Martin was killed while trying to land on a highway in a rainstorm during a mercy mission to Africa in Nigeria. During the time Martin was flying Seaboard (middle 1950s) a military man named Marlon Green began an six-year odyssey to become a commercial airline pilot.